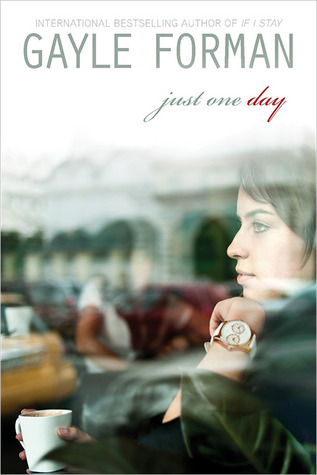 Just One Day
By Gayle Forman
book rate:
★
★
★
★
★ (5/5)
From Goodreads:
A breathtaking journey toward self-discovery and true love, from the author of
If I Stay
.
When sheltered American good girl Allyson "LuLu" Healey first meets laid-back Dutch actor Willem De Ruiter at an underground performance of
Twelfth Night
in England, there's an undeniable spark. After just one day together, that spark bursts into a flame, or so it seems to Allyson, until the following morning, when she wakes up after a whirlwind day in Paris to discover that Willem has left. Over the next year, Allyson embarks on a journey to come to terms with the narrow confines of her life, and through Shakespeare, travel, and a quest for her almost-true-love, to break free of those confines.
Review:
Eighteen year old Allyson Healey has always been a straight A student. So, as a reward for her accomplishments in high school, her parents offer her a three week European tour as a graduation gift. What she was not expecting was to meet Willem and having her life turned upside down. When he asks Allyson to change her plans and spend a day with him in Paris, she finds herself saying yes against all odds.
Allyson had never been a rebellious child, she was exactly the opposite, the perfect daughter, the perfect student and the perfect best friend, was always ready to help whoever needed her, even if that meant not helping herself. Allyson was the type of girl who would never, not in a million years, go to a foreign country with a completely stranger. Willem, on the other hand, is a confident, gorgeous free-spirited actor. He's everything Allyson is not, but, somehow, Allyson discovers a part of her she never thought existed while travelling with Willem.
You may think

Just One Day is just one more love story. But one the contrary, this novel is about self-discovery, finding a part of yourself you never knew existed and fighting to keep it within you. This is a book to every boy and girl who has ever felt lost, disconnected from the world and those living on it. The strong characters combined with a beautiful writing style, Gayle Forman, was able to, not only, inspire young readers but also make them reflect about life, what you expect from it and what is expected of you.