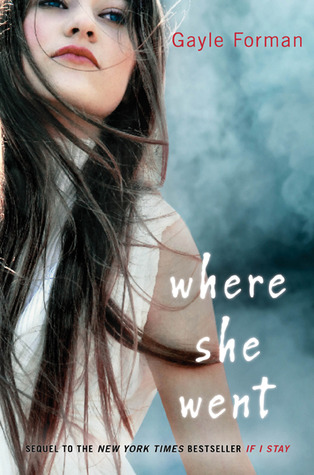 Where She Went (If I Stay #2)
series rate:
★
★
★
★
★ (5/5)
If you haven't read the first book in the series, be aware, this review contains spoilers of book one, If I Stay.
It's been three years since the devastating accident . . . three years since Mia walked out of Adam's life forever.
Now living on opposite coasts, Mia is Juilliard's rising star and Adam is LA tabloid fodder, thanks to his new rock star status and celebrity girlfriend. When Adam gets stuck in New York by himself, chance brings the couple together again, for one last night. As they explore the city that has become Mia's home, Adam and Mia revisit the past and open their hearts to the future - and each other.
Told from Adam's point of view in the spare, lyrical prose that defined If I Stay, Where She Went explores the devastation of grief, the promise of new hope, and the flame of rekindled romance.
I don't know how to start to express my love for this book. I've been waiting to read it for a long time, and when I finally got my hands on it I sat down and I start reading it, a few hours later I had already finished it. This book was everything I was hopping for and more.
This book is written from Adam's point of view. It has been 3 years since the accident, 3 years since Mia left Adam and never said a word. He's
devastated
, lonely and lost. He has the life most people want, he is a
rock star,
but he isn't happy. Adam was a great character, the way he described what he was feeling was so realistic I could almost feel it myself. Mia is a rising star herself, she is living her life and even after everything she went through she stayed true to herself.
The plot was simply amazing. As the night went on we get to see Adam and Mia's relationship and I was dumbstruck how well they knew each other, how he knew exactly what she wanted and needed.
Throughout the book, Adam has flash backs of what that happened in the past, ever since Mia got out of the hospital to how he got to where he was. When he describes some moments he used to have with Mia before the accident it was undeniable how much they loved which other.
When Mia finally stepped into the picture, his feelings where so strong and
overwhelming, it was obvious he was still hurting over her.
It was heartbreaking, I wanted to cry for Adam, he didn't what happened to him.
Once more, Gayle Forman wrote an amazing heartbreaking story. It will keep you on the edge of tears, frustrated and most likely overwhelmed. The feelings an ever lasting presence, just like you would expect from Gayle Forman. If you liked If I Stay you don't want to miss Where She Went.