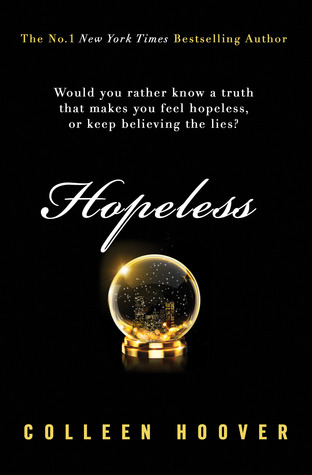 Hopeless
by Colleen Hoover
book rate:
★
★
★
★
☆
Brief Introduction (from goodreads):
Sky Davis is starting sixth form having always been home-schooled, and wants to keep a low profile. But then she runs into Dean Holder - messy brown hair, smouldering blue eyes, and a temper straight out of Fight Club, someone who Sky is determined to avoid.
There is something about Holder that sparks memories of Sky's troubled past, those which she would rather stay buried. Little does she know that the mysterious Dean Holder is harbouring secrets of his own . . .
When the truth unravels, Sky must piece her life back together and learn to trust again. Only by facing the revelations together can the two of them begin to heal their emotional scars and find a way to live without boundaries.
Review:
I bought "Hopeless" because I had heard a lot about Colleen Hoover's "Slammed" (a book I'm really looking forward to read!) and when I saw this on a shelf at my local bookshop I didn't even think twice. Only when I got home did I even remember to read the sinopsis and check if this book was a stand alone or a first in a series! At the time I thought I had made my first impulse buy and that it had been a really bad one but guess what? I had never been so wrong.
"Hopeless" exceeded my expectations not only plot-wise but also in the deepness of the characters. Initially I thought Sky and Holder would be the typical borken kids that find each other and somehow mend all the broken pieces of their pasts in order to be happily in love for the rest of their lives. So not true. Sooo not true!
Sky is such a complex character, she feels so much and so little at the same time. And she is not broken by her past because she has no idea what her past is. And Holder can be quite a jerk sometimes, but aren't real life teenage boys like that too? These characters are so realistic it hurts! Their reactions are very relatable and as this is a story during which Sky and Holder learn their real stories too we come across a lot of different and strong reactions.
It's not a life changing book (at least not for me), but it will stick to your thoughts for a pretty long while. I can't tell you much about the story or else I would ruin it for you, but trust me when I say it's a pretty intense book! Do recommend and am definetily looking forward to reading Losing Hope.