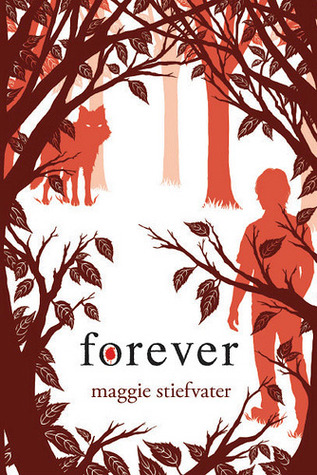 Forever (The Wolves of Mercy Falls #3)
By Maggie Stiefvater
book rate:

★★★

☆

☆ (2.5/5)
series rate:
★★★
☆
☆ (2.8/5)
If you haven't read the first two book in the series, be aware, this review contains spoilers of the last two books.
If you want to know more about the previous books read my full review of Shiver and Linger.
From goodreads:
The thrilling conclusion to #1 bestselling Shiver trilogy from Maggie Stievater.
then.
When Sam met Grace, he was a wolf and she was a girl. Eventually he found a way to become a boy, and their love transformed from curious distance to the intense closeness of shared lives.
now.
That should have been the end of their story. But Grace was not meant to stay human. Now she is the wolf. And the wolves of Mercy Falls are about to be hunted in one final, spectacular kill.
forever.
Sam would do anything for Grace. But can one boy and one love really change a hostile, predatory world? The past, the present, and the future will all collide in one pure moment - a moment of death or life, farewell or forever.
Review:
I'm going to be brief about this review since my opinion doesn't vary much than my opinion of Linger.
Forever
, just like
Linger
, is written from four points of view, Sam, Grace, Cole and Isabel. I liked Cole in this book, his chapters were my favourites. He was funny and intelligent, the one who actually had something to do, he was trying hard to find the cure. However my opinion about Grace and Sam was the same, they were pathetic and only thought about one another most of the times instead of thinking about the real problem they had in hands. Isabel kind of acted like a bitch but, luckily she came to her senses at the right moment and saved the world.
This final book had more action than Linger, but I still found the book to be slow paced. There were too many chapters were nothing was happening, it was just Sam reflecting and writing songs, or Grace thinking, or Isabel being depressed. I found my self constantly losing focus, in one minute I was on a page and the other I was already on another page and I couldn't remember what I had read.
One more thing I didn't like was the ending, the last chapter more specifically . I'm not going to tell you what happen because I don't want to spoil you, but if you read the book, you know what I'm talking about. I'm going to read
Sinner
someday just to see if the question I've been asking myself is answered, and also because I liked Cole and Isabel.
All in all, a book I'd recommend only if you like books where nothing much happens but where there is a lot of thinking and reflections about life and all kind of things.