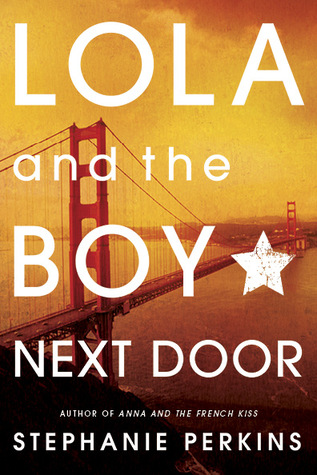 Lola and the Boy Next Door
By Stephanie Perkins
book rate:
★
★
★
★
☆ (4.25/5)
from goodreads:
Lola Nolan is a budding costume designer, and for her, the more outrageous, sparkly, and fun the outfit, the better. And everything is pretty perfect in her life (right down to her hot rocker boyfriend) until the Bell twins, Calliope and Cricket, return to the neighbourhood. When Cricket, a gifted inventor, steps out from his twin sister's shadow and back into Lola's life, she must finally reconcile a lifetime of feelings for the boy next door.
Lola and the Boy Next Door
is one of those cute contemporaries that grabs you right from the beginning and you can't stop reading it!
I did enjoy this book but not as much as
Anna and the French Kiss.
I was so happy to see Anna as Lola's co-worker! I felt like reading Anna and the French Kiss all over again. And I think I will, before Isla and the Happily Ever After is released.
One thing that is constantly present in contemporaries is lack of communication, however, in this book,
Cricket is straightforward with Lola right from the beginning. The main problem was that Lola was not honest with herself.
I loved the characters. All of them, except for Max (Lola's boyfriend) he was an idiot, and Lola was the only one who could not see that. She did annoy me sometimes, she could not see what was right in front of her and she was rude sometimes. But I guess that's what makes this character so realistic, she has flaws and she knows it, she tries to correct her mistakes, and eventually she is able to!
It's an enchanted forest, I'm sure of it. Amid the trees are devilish wood sprites and red mushroom caps with whit spots and faeries tempting mortals with golden fruit.
(chapter thirteen)
I loved how Lola described the Muir Woods. It revels so much about her character. She has such a creative way to look at the world and it is reflected in the way she acts, dresses and describes things like the woods. She is such a unique character. I don't think I will ever forget her.
I loved this book and I'm super excited to read
Isla and the Happily Ever After
! If you like contemporaries you have to read this book, if you haven't already.