This is a book discussion therefore there WILL BE SPOILERS. However I will briefly say what my thoughts were in general without spoiling the book \ series for you. I will warn you before the spoilery part!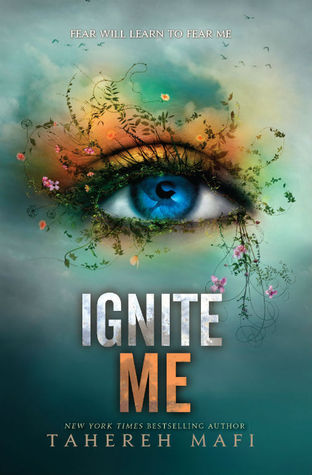 Ignite Me (Shatter Me #3)
Shatter Me Synopsis From Goodreads:
I am a monster
My touch is lethal
I am their weapon
Juliette hasn't touched anyone in exactly 264 days.
The last time she did, it was an accident, but The Reestablishment locked her up for murder. No one knows why Juliette's touch is fatal. As long as she doesn't hurt anyone else, no one really cares. The world is too busy crumbling to pieces to pay attention to a 17-year-old girl. Diseases are destroying the population, food is hard to find, birds don't fly anymore, and the clouds are the wrong color.
The Reestablishment said their way was the only way to fix things, so they threw Juliette in a cell. Now so many people are dead that the survivors are whispering war – and The Reestablishment has changed its mind. Maybe Juliette is more than a tortured soul stuffed into a poisonous body. Maybe she's exactly what they need right now.
Juliette has to make a choice: Be a weapon. Or be a warrior.
This is one of the most beautiful written series I've ever read. Just reading the book is worth it because of the writing. The story itself is also very entertaining and easy to read. I recommend this series to anyone who likes a good dystopian. I promise this one won't disappoint! For more of my thoughts check out Shatter Me review.
SPOILER PART BEGINS HERE! DON'T READ IF YOU HAVEN'T READ THE BOOK AND
The author ends the second book with a huge cliffhanger, if you read the books you know what I'm talking about. I thought I was going crazy while I was waiting to start the last one. The wait was worth it! I do love a good dystopian and this one didn't disappoint!
Juliette's world is upside down, she was just shot in the chest by the devil, aka Anderson, and she actually survived thanks to Warner and she has no idea if her friends are alive, she is confused, angry and desperate. However she's not the same girl anymore, she was given a second chance and she wasn't going to waste it. She wanted revenge and nothing could stop her.
Juliette grows so much in this last instalment, she finally stops feeling sorry for herself. She is no longer a weak little girl who needs protection. I was so glad to see this transformation, having her crying all the time was so irritating! She turned out be an amazing hero. So sure of herself and her abilities, she accepted who she was and had full control of her and her "super powers". I'm so thankful for that, the world would be a better place if there were more girls like her. I was enchanted when she decided to step up and lead the country. She didn't even expect another person to do it!
"Juliette, love," he says to me, still holding my eyes. "You have just started a war"
The only thing that annoyed me was the how indecisive she was about Adam and Warner, I mean, it was obvious who she loved. Luckily it didn't last long and she made up her mind.
Ever a since the second book that I've been team Warner. Adam started to get really annoying and just so flat in personality. I know he has worried and all but that was not an excuse to act the way he did, specially after Fracture Me. When we get to the third book his the stupidest bastard ever! I wanted to kill him for what he said to Juliette, he said he rather she was dead! That's not acceptable! I started to hate him so much!
On the other hand we have Warner. We see a completely new side of him in this book. We finally learn why he acted the way he did and I was so happy when Juliette saw him for what he truly was. He showed vulnerability, and it was beautiful to see his relationship evolve with Juliette.
It's the kind of kiss that inspires the stars to climb into the sky and light up the world
The moment she found him completely destroyed was heartbreaking, after his mother's death. I felt my heart break into tinie little pieces.
And we were quotation marks, inverted and upside down, clinging to one another at the end of this life sentence.
Her relationship with Kenji was just superb! They got even closer and I don't think she could have a better friend. Kenji was absolutely amazing! One of the best character I've ever read about. Once more, life would be better if there were more friends like Kenji!
The only upside down was the end. Not that I didn't like it, I really did, but I found it to be too abrupt. Everything happened to fast. However the last sentence brilliant. The author had a way to end the book that I will never forget. I'm sure that I'll constantly wonder what happened after that last sentence.
"You know," he whispers, his lips at my ear, "the whole world will be coming for us now."

I lean back. Look into his eyes

"I can't wait to watch them try"
Once more Tahereh Mafi's writing was beautiful, amazing and unforgettable. I'm glad I picked this series and I will definitely read more of this author if she writes more books.