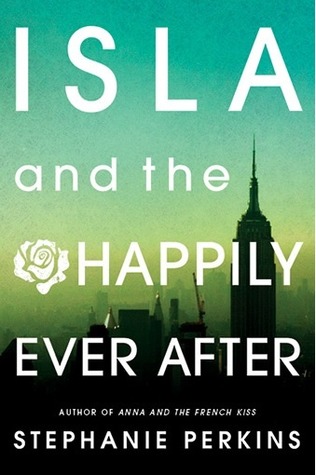 Isla and the Happily Ever After
Love ignites in the City That Never Sleeps, but can it last?
From the glittering streets of Manhattan to the moonlit rooftops of Paris, falling in love is easy for hopeless dreamer Isla and introspective artist Josh. But as they begin their senior year in France, Isla and Josh are quickly forced to confront the heartbreaking reality that happily-ever-afters aren't always forever.
Their romantic journey is skillfully intertwined with those of beloved couples Anna and Étienne and Lola and Cricket, whose paths are destined to collide in a sweeping finale certain to please fans old and new.
Isla has had a crush on Josh ever since she laid eyes on him on their freshman year. She never thought she had a chance with him, but a late encounter in Manhattan changes everything. Months later, back in Paris Isla may have her dream come true. But not everything is easy. Hearts get broken, tears are shared and dreams become nightmares.
When I bought this book I had high expectations, but while I was waiting for it to be delivered I read some not so good reviews. It didn't stop me for reading it as soon as I had it. And I'm glad I did, because I loved it! I can't say what my favourite Stephanie Perkins' book is; I loved all of them so much!
We had already been introduced to Isla and Josh on Anna and the French Kiss, but we really don't see much of them in this first book. We know Isla has a crush on Josh and, although Josh appears often, he's either drawing or making out with his girlfriend. Josh has always intrigued me, and I was so glad to get to know him better. He's funny, sweet and emotional. He doesn't hide what his feeling, he's not afraid to cry or showing vulnerability. He knows exactly what he wants in life but sometimes he tends to be a little immature, but I liked that about him. It just makes his character more realistic. On the other hand, Isla is completely lost. She doesn't know what she wants to do with her life, she feels like a blank canvas. She has little confidence in herself and tends to over think pretty much everything.
Once more, Stephanie Perkins creates characters that are both amazing and realistic.
The plot is adorable, the setting amazingly described, the relationship between the characters, whether it is friendship, romance or family is portrayed in a realistic and perfect way. Isla and the Happily Ever After did not disappoint! It was everything I was hoping for, and more! I wished the scene where the characters from the previous books appear were bigger, but other than that I was happy how everything turned out. I highly recommend Stephanie Perkins' books to every contemporary fan out there.